Welcome in the pedigree database of English Setters!
This database is your database. Data are entered by members. Our goal is to provide a tool for all lovers of English Setter! Join us!
email us
if you have any problem or if you find mistakes in the database.
Contact : basepedigree@gmail.com Spanish Contact : pedigree.espana@gmail.com
Thank you for your help!
New: map of breeders.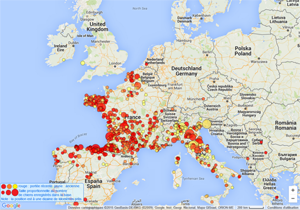 New
: create virtual mating and pedigree directly in PDF. Breeders can provide this document when they sell puppies!
New
: photo galeries in kennel pages. Find archives of breeders that have written the histoty of English setter. Add your own photos and reviews that describe your kennel and your history.
New
: Add your comments on facebook for every dog you want!

Don't forget
: our Android app (free, no ad). Send pictures directly to database, visualize pedigrees on your smartphone even without cell network. [
Go to Google Play...
]
Still essential
: Virtual mating. You can visualize your future litter and compute the inpreeding rate.You can share a web link to a future litter or a just born litter and insert it in your ads.
Info
:
Archives: European Championship
(Grande Quete, Mountain, Spring).
Infos
:
List of videos!
Note: data are entered by members. There is no guarantee about accuracy of data.